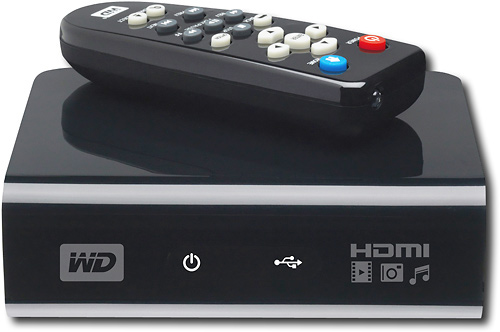 If you've read any of my other "reviews" (or "personal experience") of gadgets, phones, and what not, you know that I above all things like uncomplicated stuff that works. Having used a number of so-called "Media Centers" and "Media Hubs", both hardware and software, I was not entirely happy about going shopping for sometihng to replace the Netgear EVA9150 Digital Entertainer Elite. When I ran into the WD TV Live, it caught my interest mainly due to its size and the way the product was pitched. The idea is that this is a "streaming" or "management" device, without its own storage. Needless to say, it has support for network attached media (NAS) or a local USB hard disk, as well as Internet-based services. This is not a guarantee for anything, but it's a step in the right direction. Pairing this unit with a Samsung S2 USB drive allows me to keep some serious media at the ready, as well as replacing that media when the kids aren't around.
When I first noticed this product from Western Digital, I was also told a new version was on its way. So, I did some reading on the upcoming model and decided to wait. When it appeared on the Swedish market, I got myself a unit. This is an inexpensive, very capable, and affordable "media player" or "media center". If you want to find out my opinion about it, keep on reading 🙂
The Western Digital WD TV Live HD looks and feels like … it won't be very good at all. It's "all plastic", way too light. The remote control is almost bigger than the device or "box". That's the end of the "bad" stuff. The product isn't perfect, but so far, it kicks everything else I've tried out of the park. By a margin.
Installation is simple, and I mean, really simple. It takes five minutes. I've hooked it up to a Sony 42″ LED TV, as well as a Samsung 46″ LED TV. Both are fairly "recent" from Sony and Samsung, and I've also hooked up the WD TV Live HD box to an older LCD TV. You hook up your portable USB "media drive" with music, movies, photos, or any combination thereof. When you turn the unit on, it'll scan the media library the first time, and after a short while you're good to go.
The box can also stream from Network Attached Storage (NAS) or any other networked unit, such as your computer where you share your "jukebox". WiFi works beautifully, even when you're streaming a 1080p Full HD movie with 5.1 DTS sound. For all its feature in detail, check out Western Digital's page for this product at: wdc.com/en/products/homeentertainment/mediaplayers/
It sports features like weather services, movie rental services, Internet services, and most other things you'd expect from a device like this. What you will not be able to read from the rich list of features from Western Digital is how well this unit works. This is, IMHO, an underpriced and feature rich unit with awesome performance. Get it while you can 🙂
I've said this before about a few gadgets, and it still holds true. It's annoying that you actually have to consider "working" as a feature these days, but with the amount of crap being pushed to market too soon and too fast, it's a breath of fresh air to see something that works this well.
Out of all the media formats I've pushed to the WD TV Live HD unit, I've had it fail on one or two weird container/encoding formats. I really cannot ask for more than that. This is also the reason I got a second unit for another TV. It is that good, and it works that well. It may very well be that Western Digital has created something that is simply too subtle to make a splash in the jungle of flashy devices being released left, right, and center. But make no mistake about this, this is very well spent money.
The unit is, unlike many others, well supported by Western Digital. New firmwares are released every now and then, adressing bugs, introducing new features, etc. Just like it should be. I guess you don't really need a HTPC to get a HTPC.
Kudos and hats off to Western Digital for producing a really neat gadget.