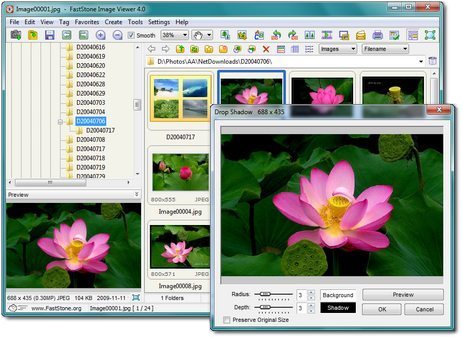 I've been doing digital photography for many years and have come across a number of applications that claim to be "photo managers" with functions for fast viewing, basic tasks like cropping and re-sizing, etc. I realize it quite often comes down to personal taste, so you are welcome to completely ignore this post 🙂
I mainly work with adjustments, cropping, and re-sizing when I work with photos. For most post-shoot processing, I use Lightroom. I was once a fond user of the ACDSee products, used as my "Swiss Army knife". But ever since I ran into the FastStone Image Viewer, I have uninstalled most other similar utilities. Being a fan of Shareware, and similar, I have registered the product for commercial use, and it's well worth the money!
If you're looking for a very fast viewer, manager, and "Swiss Army knife" for your photo management, give FastStone Image Viewer a go. It'll handle all major graphic formats including BMP, JPEG, JPEG 2000, GIF, PNG, PCX, TIFF, WMF, ICO, TGA, and camera raw files. Oh, and it's not bloatware 🙂
Now, if I could only have the FastStone Image Viewer for Linux too ….
You'll find FastStone Image Viewer here: faststone.org