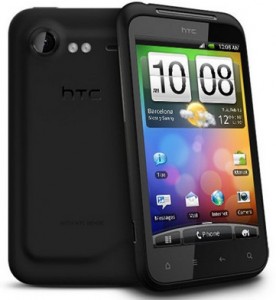 Having recently moved over to an HTC Incredible S from my previous HTC Wildfire, I was eagerly awaiting the Android 2.3.3 OTA upgrade from HTC. Once installed, things were looking good and the phone continued to prove itself as a very nice piece of equipment. Until the ActiveSync functionality began acting up. Synchronizing Calendars and Contacts works fine, but e-mail is a no-go after the upgrade. No detailed error messages are displayed, other than that the sync failed.
One can only imagine how something as big as ActiveSync is in the corporate world cannot be tested by HTC before publishing a release for one of its most recent Android Mobile Phone products. Unusually sloppy for being HTC, I'd say.
The phone? Oh, it's grand. A little less "framed" than some other HTC phones where I feel the actual case is too wide around the edges. The S-LCD screen is very crisp and allows me to shrink the font size where it's possible to do so in Android. One could only wish there was a general font size control in Android. It's weird that the higher the resolution is, the bigger the icons and text becomes. Using HTC Sense, I can fit as many icons on a home screen as I could with my old HTC Wildfire; not exactly what I'd call an improvement. Fortunately, there are things like LauncherPro which works great!
Performance is good. I wouldn't go as far as to say it's spectacular, but it's more than adequate. Games and Video run smoothly. But you can obviously get Android phones with more punch than the HTC Incredible S. The camera is actually usable, but I wouldn't call it "HD" or anything. Most cheap compact digital cameras do a much better job.
As for ActiveSync failing for e-mail sync with the Android 2.3.3 update from HTC, a workaround is to use IMAP over SSL and then disable syncing of e-mail via ActiveSync. This is a good compromise for now, and something I can live with; but it'd be nice if HTC got their act together and tested their releases before distributing them to their customers.
This is not necessarily a HTC problem; there are a lot of reports about other phones running Android 2.3.3 not being able to synchronize e-mail via ActiveSync; nonetheless, I feel HTC should test these vital functions in their phones before releasing updates.