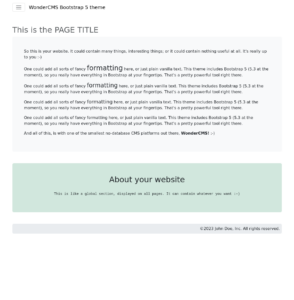 WonderCMS is an extremely small and simple CMS written in PHP. It can be installed and configured in less than a minute and puts a minimal load on your web server. After having browsed the available themes, I put together a Boostrap 5 Theme for WonderCMS.
The files for the theme is in my GitHub repo github.com/joho1968/wcms-bs5. You can see it in action here wondercms.oppetmoln.se
(Where you can also download a .zip file.)
Enjoy.