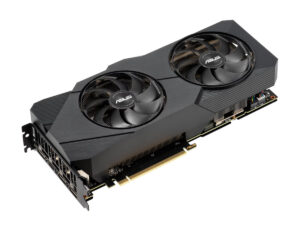 My ASUS GeForce RTX 2070 Super Dual Evo OC fans started to sound like an old locomotive when doing anything but idling, and since it's a fairly old graphics card, finding a fan replacement was going to be hard.
I started by cleaning the fans thoroughly, which is something everyone should probably do more frequently 😃 That made the fans make a little less noise, even att high RPMs, but they were hardly out of the locomotive segment.
I had seen a post on social media from an acquaintance of mine, who had found a 3D printing shop that did custom fans for many cards. Unfortunately, the ASUS GeForce RTX 2070 Super Dual Evo OC wasn't among the models they made fans for.
After some searching, I did find a proper replacement on gpufanreplacement.com and ordered a kit of two fans. The package arrived after about two weeks. So far so good. The installation was a bit finicky, but if you're equipped with the right type of screwdrivers and good eyesight, or a looking glass, you'll have it done in under 10 minutes.
The exakt product I ordered is this one:
gpufanreplacement.com/products/asus-gtx-1660-super-rtx-2060-evo-fan-replacement
The graphics card now make a lot less noise, even with fans at 100% speed! 🤘🏻😊