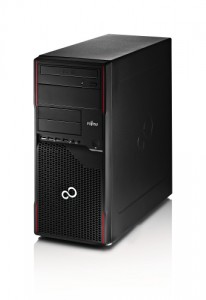 I like Fujitsu desktop computers. In the past, they've made some wonderful and lasting creations, ranging from the Esprimo Q-series to their SFF E-series and their P-series microtowers. I like Fujitsu servers too, and we've been deploying several of them at work. Sure, some of their desktop computers have been less successful, but tell me one manufacturer of computers that has a perfect track record 🙂
The Fujitsu ESPRIMO P900 E90+ desktop computer is no exception in that it's well built, quiet, and, well, just works 🙂 Fujitsu doesn't pre-load their computers with too much crap, unlike some other manufacturers. There's a lite version of Nero (CD/DVD-burning software), and there's a version of Symantec "protection" bla bla; the latter is something I always uninstall in favor of AVG Internet Security.
With all this being said, I opened the machine to add an ASUS Nvidia GeForce 450 GTS card (because I don't want a graphics card with a fan). As is the case with most medium- to high-powered graphics cards these days, the ASUS Nvidia GeForce 450 GTS card occupies two PCIe slots, or the space of two slots I should say since it's actually the heatsink that occupies the extra space. This is a well known fact to all computer manufacturers and also to most people who have ever replaced a graphics card in their computer.
Everyone, it seems, except Fujitsu.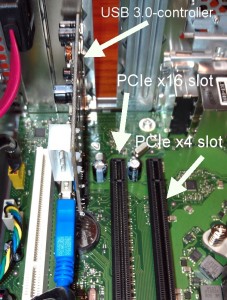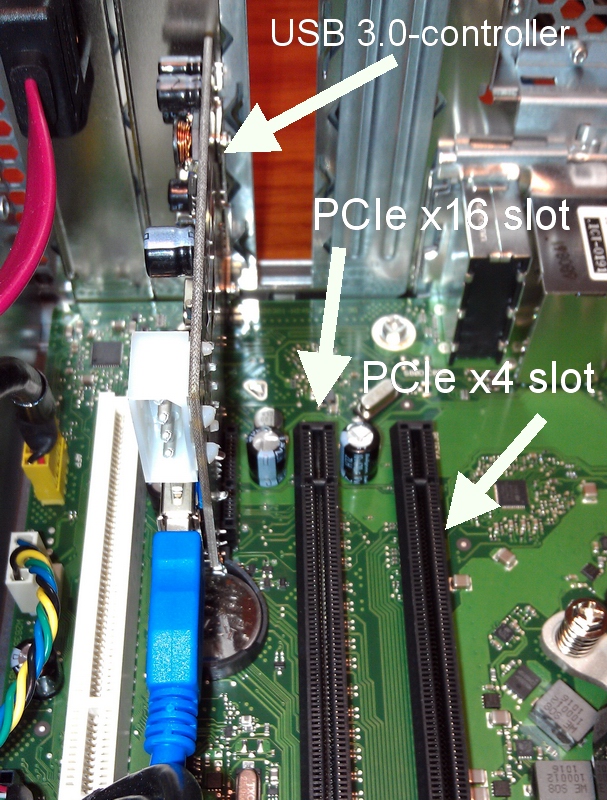 In the ESPRIMO P900 E90+, Fujitsu has added a USB 3.0-controller. There is one connector at the back, and one on the front panel. Since re-doing the entire design of a motherboard and computer layout takes some time, Fujitsu has chosen to do this with an add-on card. So far, so good. The motherboard sports four slots. One PCIe x4, one PCIe X16, one PCI, and one shorted PCIe slot. The shorted PCIe slot holds the USB 3.0-controller. Unfortunately, someone at Fujitsu had their head up their ass the day they decided to do this. The shorted PCIe slot is seated right next to the PCIe x16 slot, which is where you want your graphics card.
It would have been a far wiser choice to put the PCI slot next to the PCIe x16 slot, since it's unlikely to be used. But alas, with your head in a dark place, things of this nature may be hard to see.
There is a solution, and it has been verified with Fujitsu Technical Support:
Simply re-seat the USB 3.0-controller card to the PCIe x4 slot. Now you have plenty of room for your monster graphics card, or as in my case, the ASUS Nvidia GeForce 450 GTS card with its passively cooling heatsink.